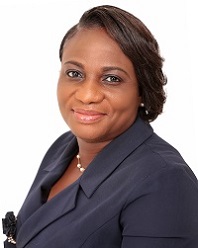 Before her appointment as Head of Technical Operations, Ms. Cynthia Kwarteng Tufuor was the Tema Area Manager of SIC Insurance PLC.
She has over fifteen years of experience in the Ghanaian insurance industry, spanning from marketing to underwriting, claims and management. She has worked in most of the Area Offices, with an extensive understanding of the operations and the cultures of the various regions in the Country.
Ms. Kwarteng Tufuor became part of the SIC family in January 2008, joining as a Marketing Officer at the Accra Area Office. Over the years, she demonstrated her expertise and dedication leading to her transfer to the Corporate and Special Risk Department after the realignment of the Claims and Underwriting Departments in 2010.
Following that, she served at the Kumasi Area Office and later became the Deputy Area Manager at the Tema Area Office in 2018. In 2019, she was appointed as the Tema Area Manager, a position she excelled in until her new appointment.
She is a Chartered Insurer, with a Diploma and Advanced Diploma Certificates in Insurance (Ghana Insurance College, Valedictorian 2010). She also Chartered as an Insurer (ACII-UK) in 2011, and became a Fellow of the Chartered Insurance Institute, (FCII-UK) in 2016. In September 2021, the Chartered Insurance Institute of Ghana admitted her into fellowship (FCIIG). Cynthia is a graduate from KNUST with a BSC in Agric. Engineering and holds an MBA in Strategic Management and Consulting from the KNUST Business School.
In her new role, Cynthia will lead, enhance and strategically drive organizational performance and growth of the technical arm of the company's operations.