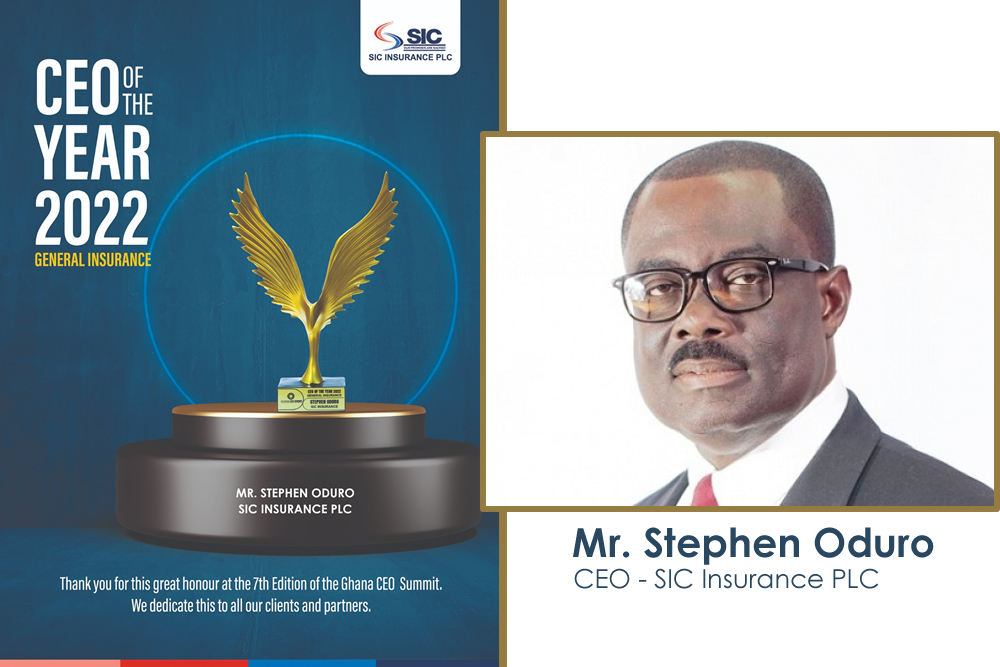 The Managing Director of SIC Insurance Plc, Mr. Stephen Kwame Oduro, has emerged as the CEO of the Year 2022, General Insurance category at the 7th edi- tion of the Ghana CEO Excellence Award 2022/2023 held in Accra.
Commenting on the award, the organizers stated that Mr. Oduro won the CEO of the Year Award on the strength of his ability to turn around the fortunes of Ghana's largest general insurance company as well as the recognition for the insurance company's performance on premium mobilization, profit after tax growth and the payment of dividend for 3 consecutive years.

Founded in 2016, the GHANA CEO Summit is the foremost business conference for over 500 topmost CEOs from the Private & Public sector, Heads of State Institutions and Agencies, Business Leaders. Ministers, Entrepreneurs, Ambassadors. Investors and Policy Makers for High-Impact Learning, Business Opportunities & Solutions, Networking Deals and Dialogue with the President of Ghana.

In responding to the recognition, Mr. Oduro dedicated the award to the numerous clients of the company as well as all those who have been at the frontline working tirelessly to restore Ghana's preferred general insurance company back to its glory days.

He also thanked the company's intermediaries thus brokers and agents saying "the award is a call for more challeng- ing engagements, activities and positive results going forward".

Finally, Mr. Stephen Oduro thanked the public for believing in the business strength and brand direction of SIC Insur- ance Pic and promised not to disappoint the organizers in their judgement for the award.