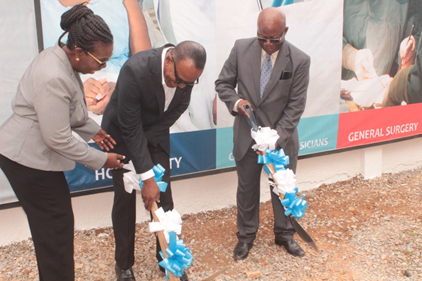 SIC Health Services Limited (SIC-HSL) a subsidiary of Ghana's largest Insurance Company, SIC Insurance Company Limited, is to construct an ultramodern, one-stop world class hospital in Accra.
This was made know during the ground breaking ceremony in Accra by the Board Chairman of SIC Insurance company Ltd, Mr. Mike Hammah. He noted that SIC recognises the need for world class quality health care delivery in Ghana and has thus set up the subsidiary to actualise the vision to fill this gap, in keeping with SIC's pioneering spirit and tradition of spawning profitable progenies.
Mr. Hammah stated that SIC is partnering with Enraf Nonius Projects, a UK based firm as consultants, in collaboration with local construction firms to implement the project. Work on the project is expected to commence in the third quarter of 2016 and span a 24month period. The hospital is to be named after Bob Freeman, the first Managing Director of SIC Insurance Company Ltd.
Speaking at the event, the Chief Executive Officer of SIC Health Services Ltd, Dr. Robert Mills, elucidated that the objective of the hospital shall be to deliver high quality health care services underpinned by a customer centric ethos in consonance with world class standards. He noted that the new hospital shall offer one-stop health care services spanning the full range of all major medical specialties supported by a holistic diagnostic set up with state-of-the-art equipment. Dr. Mills was emphatic in stating that in order to ensure a one-stop nature of services and thus minimize the incidence of patient referrals (a distressing inconvenience), the hospital will also render other specialized services such as a Dialysis unit, Maternal and fertility unit (with an attendant in-vitro fertilization unit), an Eye, Dental as well as ENT units with the exceptional novelty of a hyperbaric chamber for hyperbaric oxygen therapy. The hospital will also be equipped with a telemetric Intensive Care Unit to provide life support for the critically ill patient. He also intimated that particular attention has been given to the design of the servicescape as a critical ingredient, in conjunction with excellent customer service, in order to create a delightful customer experience for all clientele once the hospital begins operations. The initial 50-bed facility represents the first phase of the project with plans to expand the bed capacity in the medium to long term.
The Board Chairman of SIC Health Services, Mr. Justice Benjamin Okai Tetteh in his address noted that Enraf Nonius Projects (EN-P), was chosen because of their wealth of experience in international standards of design, construction, project management, equipment installation and general medical facility management. This he said will help lead SIC and the Bob Freeman Hospital to the forefront of health care provision in Ghana and the sub region.
Board Chairman of SIC Insurance, Mr. Mike Hammah (middle) breaking grounds at the project site with support from Mrs. Emma Ocran, Director of Legal, National Insurance Commission and Mr. Justice Benjamin Tetteh, the Chairman of SIC Health Services Limited.