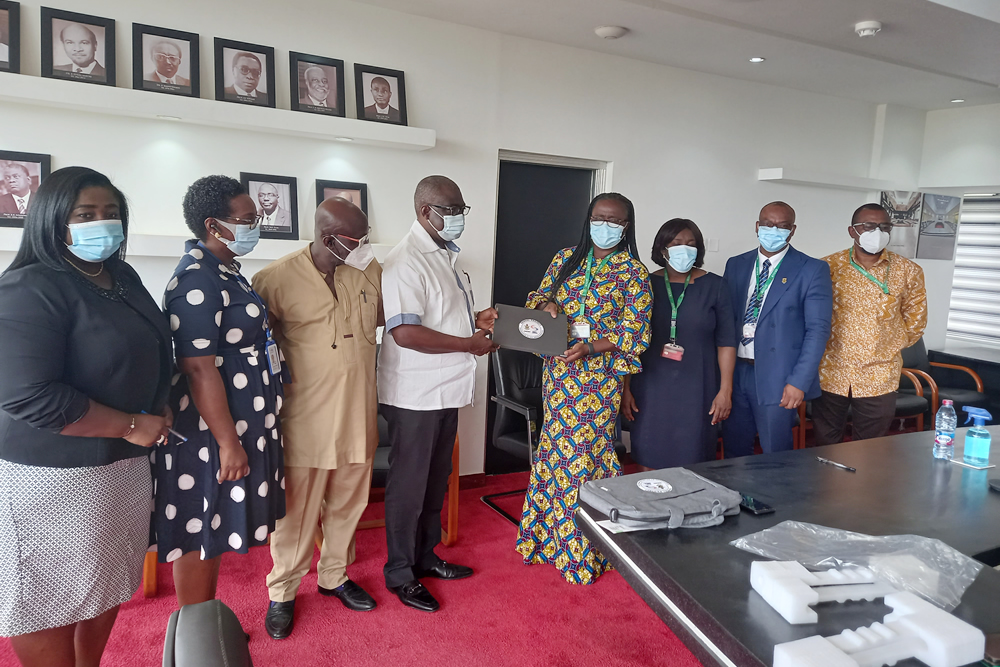 The Managing Director of Ghana's largest general insurer, Mr. Stephen Kwame Oduro (fourth from left) has donated additional 50 laptop computers to the Kwame Nkrumah University of Science and Technology in support of the appeal and vision by the Vice-Chancellor of the University, Professor (Mrs.) Rita Akosua Dickson (fourth from right) to 'Support One Needy Student with One Laptop' (SONSOL) Project.
This brings to a total of one hundred laptops donated by the insurance giant so far. The Vice Chancellor on assumption of office initiated the SONSOL project which was necessitated by the Coronavirus pandemic and the need for the University's Management to switch to e-teaching and learning. She thanked Mr. Oduro and SIC Insurance Plc and said due to their kind support, many of the University's students who hitherto would have been left out because of their inability to access the online teaching and learning due to lack of laptops, now are part of the online community of the university and beyond.
Mr. Oduro on his part, thanked the University for the opportunity and partnership and said education is a key pillar for the company's Corporate Social Responsibility agenda and further believes that effective collaboration between academia and companies is critical for manpower development of our millennials and the new workforce. Such collaboration drives innovation as it seeks to enrich students' knowledge and their employability, as well as providing new streams of funding to support programs of tertiary institutions he added.
SIC Insurance Plc is Ghana's largest indigenous general insurer and has over twenty-six branches across the country. For over five decades the company have provided customized insurance solutions to various government institutions, corporate Ghana and many individuals and families. In the last three years the company has paid claims in excess of GH?180 million.