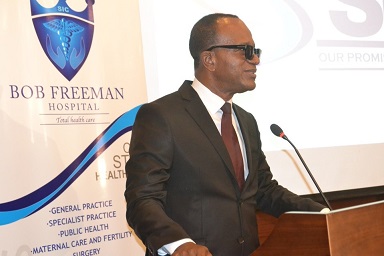 He added that, the history of SIC Insurance is replete with the demonstration of a pioneering spirit. Some three decades ago, SIC was the first corporation to open a corporate clinic to take care of the health needs of its employees and subsequently the general public.
Today SIC has recognised the need for world-class health service in Ghana and once again, through its pioneering spirit, has decided to take the giant step towards satisfying that need in the health care sector in Ghana.
The CEO of SIC Health Services, Dr. Robert Mills in his presentation indicated that the ultra-modern 49-bed hospital facility will among other services have a medical gas plant and a waste processor and a hyperbaric oxygen chamber which will be the first of its kind in the country. He further explained that the Hyperbaric Oxygen Chamber is used to diagnose brain tumors and heart attacks and also used to treat ulcers, burns and carbon monoxide poisoning.
Consultants for the project is Enraf-Nonius Projects of Netherlands and Financing would be jointly provided by the Rabobank of the Netherlands supported by the Government of the Netherlands and SIC Insurance. The project would be completed in less than 18 months.
Chairman of the Board of SIC Insurance, Mr. Mike Hammah presenting his speech at the launch of the New Bob Freeman Hospital Project in Accra