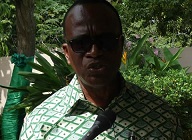 SIC Insurance – Ghana's largest and leading general insurance risks underwriter has expressed optimism in securing a new future as Ghana's biggest non-life insurance company.
According to the Company's Board Chairman, Mr. Mike Hammah the Company is looking forward to maintaining its leadership in the Ghanaian insurance market through a number of proactive initiatives the company is undertaking.
Speaking to the management of the company, Mr. Hammah said alongside growing its business on all general insurance fronts to maintain its place as the leading general underwriter in Ghana; the Board and Management are working hard together to restructure, re-engineer most of its internal processes and re-position the company.
According to the Board Chairman, SIC Insurance as a dynamic organisation is focused on improving its services to all its stakeholders and the Insurance Industry as a whole. He added that the company's strategic objective is to become a global best practice brand within the shortest possible time.
He further stated that SIC Insurance's strength, capacity, dynamism and goodwill has made it the preferred insurer for individual and corporate clients seeking premium insurance and related financial services. Mr. Hammah said Trust, Relationship building, Professionalism, Respect and a Sense of Urgency shall remain the core value drivers in the company's quest to become a global world class insurance giant offering a vast array of world-class insurances in the country.
SIC Insurance is the nation's leading insurer with over 54 years experience in delivering excellent and quality insurance products and services to its numerous and varied customers in the country and beyond. The insurance giant has strong international links in the area of effecting and placing reinsurance businesses on the London, Europe and South African markets.
It has over time being actively involved in developing the manpower base of insurance practitioners in the industry. The company operates through over 22 business offices nationwide alongside its brokers and agency.