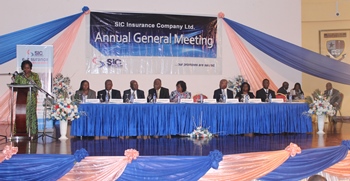 The Chairperson of SIC Insurance Company Limited, Mrs. Felicity Acquah, has given assurance that the company would complete two of its major subsidiaries, the Bob Freeman Clinic and the Estate and Mortgages Department, on time so it can be fully operational.
She indicated that the subsidiarisation of the Bob Freeman Clinic was on course and that hopefully, the construction of the state-of-the-art hospital building would be completed by the end of 2014.
Similarly, she announced, the subsidiarisation of the Estates and Mortgages Departments was also ongoing and expected to be completed by the end of the third quarter of 2014.
Mrs. Acquah announced this when she addressed shareholders of the company during its 7th Annual General Meeting (AGM) held at the College of Physicians and Surgeons in Accra. Issues considered included the company's account for 2013, the authorisation of directors' to fix the remuneration of auditors, the election of Directors and re-election of past directors, and the approval of their remunerations.
She added that the Board was also reviewing other projects strategically initiated by the company to expand its brand to other markets in the West African sub-region, such as Liberia and Sierra Leone.
She noted that the company's desire to invest in a Reinsurance Company has also been rekindled and reviewed for possible implementation.
For her part, the Managing Director (MD), Mrs. Doris Awo Nkani, highlighted that the company hoped to build a strong, robust and profitable front this year, whilst deepening its gains by positioning business in the minds of the insuring public.
She mentioned that as a strategy, SIC Insurance would this year consider areas such excellent customer service, prudent underwriting, expedited claims handling processes, innovation and human resource development.
She touted the introduction of the 'No Premium, No Cover Policy' by the regulator National Insurance Commission (NLC) as an opportunity to boost the cash and overall financial position of the company, saying it would trigger an "improvement in the structuring of our investment portfolio.
"Due to the scale of investment in our company's balance sheet and the impact of investment results on its profitability, the management of these investments is a key function that can create significant value for the company's policyholders in terms of prompt claims payment and shareholders in terms of dividends flowing from the profits of the company," she said.
She said a total of GHc 20,787,537.00 was paid in claims to policyholders and claimants in 2013, describing it as measure by the company to contribute significantly to the continuation of business and economic activities in the country.
"We insure a greater part of national assets and those of major economic players in manufacturing, energy, construction and individuals," she said, adding: "We are, therefore, not relenting on our efforts to stay ahead of the competition as far as claims payments is concerned."