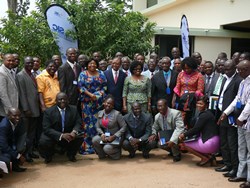 The Commissioner of Insurance of Ghana, Ms. Lydia Lariba Bawa, has congratulated members of the Association of SIC Insurance Sales Agents (ASICA) for being the first trade association to be formed in the history of Ghana's Insurance Market and for their contribution to the growth of insurance penetration in the country.
Addressing the 8th triennial delegates' conference of ASICA held in Accra, the Insurance Commissioner noted that the strides made by ASICA in recent years when emulated by others will serve for the betterment of the industry.
The theme for the ASICA conference, "Excellent customer service, the key to profitability-Role of the Agent" Ms. Bawa noted had come at the right time as the National Insurance Commission is trying to address mis-selling and mis-representation of products.
Ms. Bawa observed that even though the insurance industry has been growing at an average rate of about 30% per annum over the past six years, market penetration was still as low as 2%. Explaining that this is where the role of the insurance agent comes in to remedy the situation.
Present to grace the opening ceremony of the three-day conference were top Executives of SIC Insurance Company Limited including the Managing Director, Mrs. Doris Awo Nkani; the Deputy Managing Director Technical, Mr. Kwei-Mensah Ashidan and the Head of IT, Mr. Romeo Bugyei. Also present was the Managing Director of SIC Life, Mr. Isa Anafure and the Out-going President of ASICA, Mr. Vincent Dokpor.
On her part Mrs. Doris Awo Nkani applauded the immense contribution that the agency force of the company has made to ensure SIC Insurance remain the leader of the local insurance industry. Stressing that the contribution of the agents to the total premium mobilization of the company has averaged and as such agents deserves commendation from management.
Mrs. Nkani urged the agents to equip themselves with all the requisite skills to meet the increasing demands of the market, explaining that the rapid technological developments in the business world coupled with the increasing sophisticated needs of customers call for a shift from the usual way of doing business.
She however emphasized the need for the agents to present a professional, decent, cultured and respectful personality to the insuring public in order to win their confidence and respect. "You are part of a body that is regarded as a financial institution and the key to building confidence in your business is to radiate credibility in all your business activities" she said.