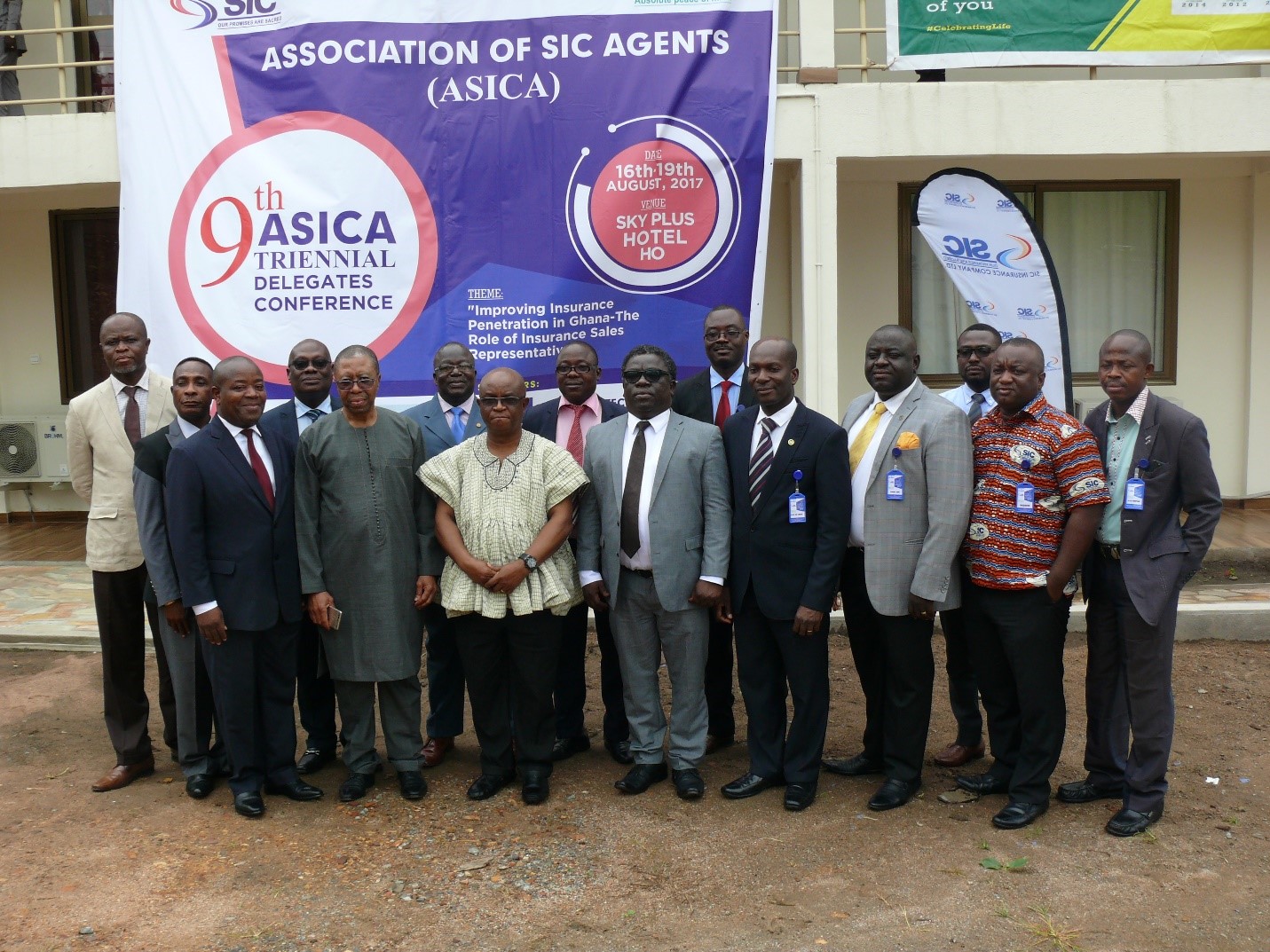 The Volta Regional Minister, Dr. Archibald Y. Letsa, has commended Sales Agents of SIC Insurance and SICLife (ASICA) for their commitment to the growth and development of the Insurance Industry in Ghana.
Speaking at the 3-day 9th Triennial Delegates Conference of ASICA in Ho on the theme: "Improving Insurance penetration in Ghana – The Role of Insurance Sales representatives", the Minister applauded the insurance companies and their agents for being at the forefront of promoting insurance education and penetration in the country and also taking insurance to the doorsteps of the average Ghanaian.
Dr. Letsa added that Ghana is seen as a country with the highest potential for growth in insurance premium and is growing as one of the fastest in Africa. He said Insurance generates significant impact on the economy by mobilizing domestic savings, turning accumulated capital into productive investments and also used as a means to mitigate loss, financial stability and promotes trade and commerce activities. Thus, insurance plays a crucial role in sustainable growth of Ghana's economy.
Despite all these, the industry's less than two per cent contribution to the country's Gross Domestic Product can be described as woefully inadequate. The Initiatives and efforts of the Sales Representatives that support awareness creation, insurance penetration and solid industry performance towards global averages is very welcome he further added.
He reiterated his Excellency President Nana Addo Dankwa Akufo Addo's commitment to creating an enabling business environment to promote growth in every sector of the economy.
Speaking at the 3-day conference, the President, Mr. Isaac Amanor-Ofori thanked the Managing Directors of their principal companies for their immense support toward the welfare of their membership. He added that the theme for the conference was chosen to stress the need for the entire Insurance industry to give the due recognition to Insurance sales representatives as they contribute over 25% of annual premium mobilized in the industry.
The General Secretary, Mr. Elvis Joe Annan is his report said, to improve insurance penetration in Ghana as sales force they need to effectively manage the insuring public from sales to claims and effectively collaborate among themselves as sales force and among their principals as well in order to create wealth and share reward together.
He again said in today's knowledge economy if you would succeed as an individual, a family, an association, a company or a nation you must be able to network with people and move yourselves collectively forward to achieve your ambitions. For you cannot do it alone , everybody needs somebody and we all need each other to be able to achieve our goals.
Also present at the conference were Mr. Faris Attrickie and Dr. Issa Ananfure, Ag. Managing Director of SIC Insurance and Chief Executive Officer of SICLife respectively.
The agent's conference is organized every three years in collaboration with their principal insurance companies to deliberate on issues concerning the welfare of the agency force as well as reward deserving high performing agents saw selected delegates from all the 10 regions of Ghana attending.